Pensions Conference
The Department of Management of Lodz University of Technology, Faculty of Management and Production Engineering, has been organizing Pensions Conference every two years since 2009. The participants represent different universities, research institutions as well as financial institutions, including mainly pension funds. The previous editions of the conference (2009, 2011, 2013 and 2015) were organized with the financial support and partnership of PZU Pension Society.
The latest
Pensions Conference (PenCon 2018)
was organized on April 19-20, 2018 at Lodz University of Technology, Lodz, Poland. W
e had a pleasure to host participants from many countries. The event was a great opportunity to have a fruitful discussion on pensions and all the related topics, including demographics, social policy, economics, finance and management of pensions.

The PenCon Conference was held under a honorary patronage of HM Rector of the Lodz University of Technology, Prof. Sławomir Wiak.


The PenCon 2018 Pensions Conference Proceedings are indexed by: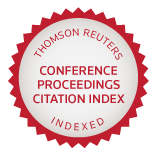 Download PenCon2018 Proceedings
Organizer